So it was finally time to try out the body or head, and set to run long than I've ever run before. 87km, or 50 miles at ultraspråk.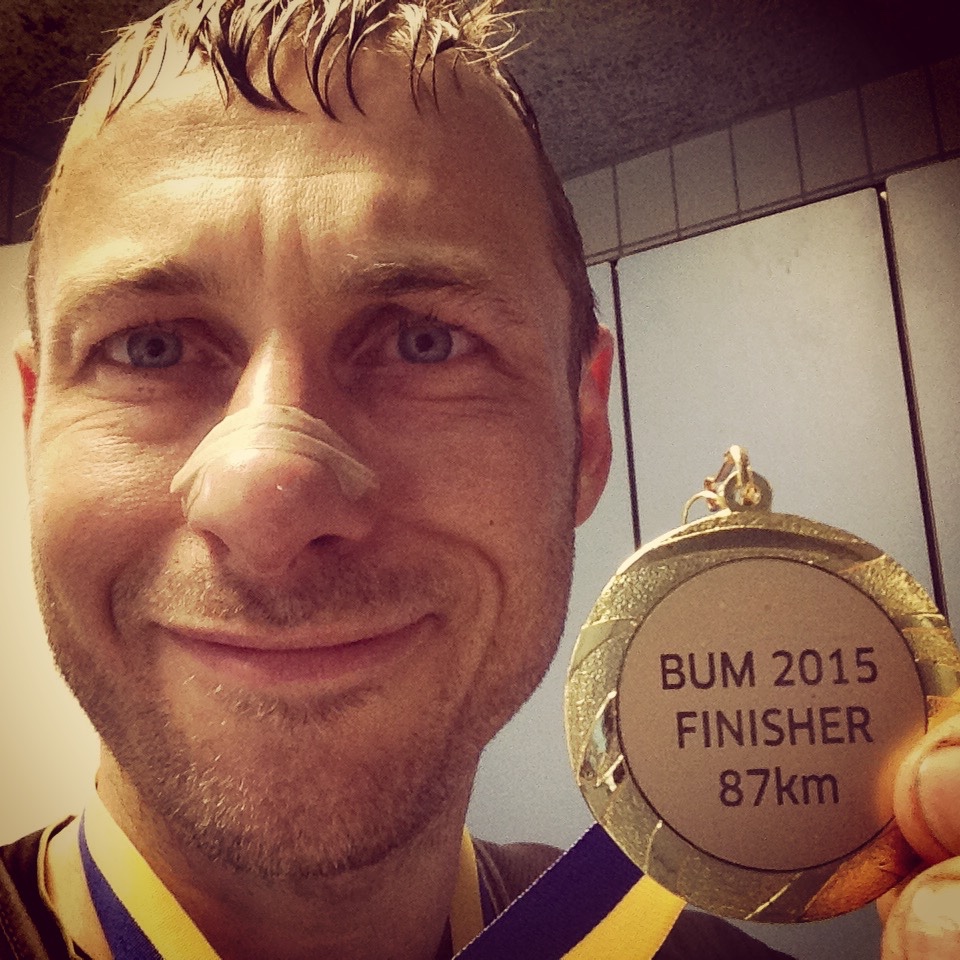 The preparations have seen trust different from before the second race. It is not required any real fill, then it is not about to run as quickly as possible. It is not directly the ability to lie and put pressure on the 95% of the maximum heart rate which determines when to out and run up to 10 hours.
On the other hand, it is nice to be loaded with glycogen in the muscles, but at the same time easily in the body. I swapped out all the food the last two days to a mostly vegetarian diet, and Friday before I drove completely vegant. An interesting experiment that struck out well, then I had no problems whatsoever with my stomach throughout the race, the body felt easy and Nice.
I planned to get in me around 250 calories per hour as I was out and ran, and approximately 0.5 litre of fluid. I ran with inov8 backpack with 2 litre bladder that I loaded with a new sprtodryck which I was testing on contest, Tailwind nutrition sweden, a sports drink developed by ultralöpare for ultradistanser. Except that it is not sweet and gooey as other sports drinks, contains all electrolytes that your body needs.
But I also wanted to download with a little extra to chew on as well, so I botaniserade some in green shed at vasaplatsen, and picked out a couple of energibars with only natural ingredients. TREK bar was a nice surprise, but I was also with me RAW bar and CLIF bars. The latter is a bit too sötsliskig for my taste. As the contest went on home turf, so it was pretty easy to pack. A dropbag with a few extraskor and a change of clothes, a few bars and sports drink, as well as a new favorite that I cooked the night before, bananburrito made egongjord råristortillas, peanut butter rolled around a whole banana.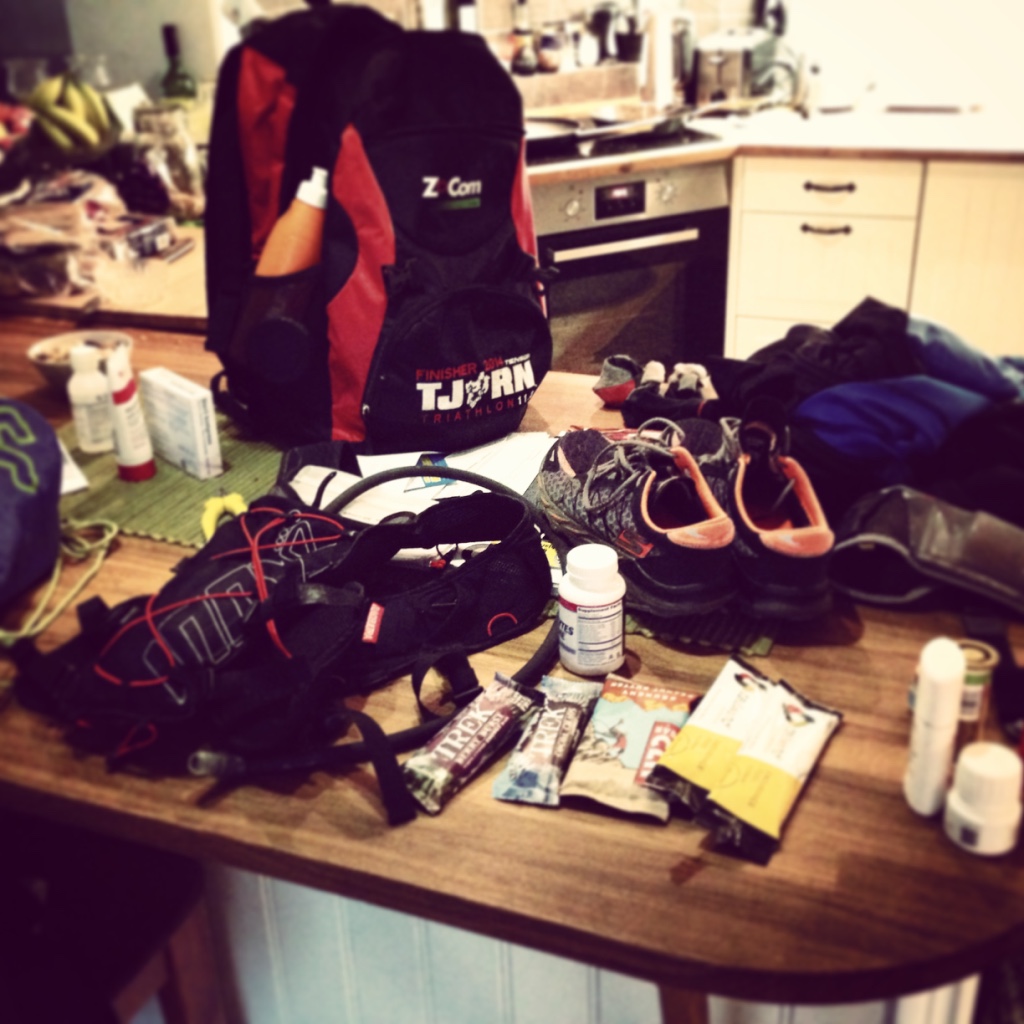 The start went from Skatås 8 am, and I was in place from 07:00 it was a nice atmosphere in the Guide hut. I don't know why, but everyone who has decided to run far and long are very nice people. No stress and compulsive. A little sistaminutentips from those who started in Dallas the night before, and run all night, to turn and run back was sitting nicely. 10 minutes before the start I took of me a sweater, and ran in the networks in place and a vest. Because it was raining at the start, I had a thin rain jacket over.
I and CJ was going to spring out together, and keep 6 minute pace first bit. But just when the start went it messed with his vätskerygga, and I came away from him directly. I took it easy some kilometres, and thought that he will catch up soon. But he never came up, so I ran on. And the pace a bit, perhaps in the low side 6 minutes the first few kilometers. But I found that I took it easy anyway.
The goal of the course was, after all, to take me to the finish. I had no time or investment goals, only one fuel on how long it might take. Somewhere between 9-10 hours I thought before. Though I had not counted by 8 degrees and heavy rain. That in itself is not particularly funny, but it does, of course, that a large part of the course looked like a swampy leråker.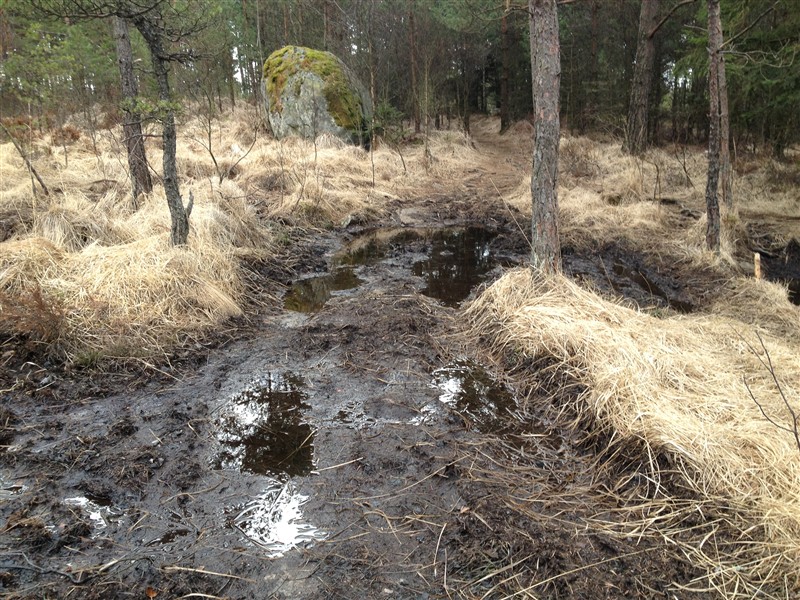 But once you become soaking wet on the feet, so you just have to run on and ignore how wet it is. And how hard you try to prevent rain from seeping in, so probably is one soaking wet anyway.
First bit went nice and slow. I kept a pace as I should be able to keep forever, and after 17 kilometers showed first drinking control up. I pulled out my little Cup, and drank a cup of clean water. Pretty nice when you have been drinking only sports drink all the way. However, I ignored as usual in coke, potato chips and candy, and kept me to my bars.
From here the path toward change and härsjön character, and there will be a lot of pieces of gravel road. Here's my tempo, even when I run out extremely quiet yet around 5 min/km, and the body was continued good. I had the running this way before, last fall during forest maran. Then I know that I had started to become very worn around 30 km, but it was not now. Then I was not even halfway.
Here somewhere, after first half marathon, one must begin to occupy the brain. If it goes nice and slow the first two hours so you can just relax and run. I have done a thousand times before, and we know not of the body. But then something happens. It's starting to hurt. It begins receiving. You have to divide the space in stages.
Now I ran my second lap Gothenburg. And I had 11 km left until I was going to start the longest race I had done up to now, Ultima Fronters at 55 km. So I kept telling me that I was about to warm up before the race, a race that I actually managed to run. And when you think about it like that, POPs the next control completely magical.
Once again, I took a cup of water, but I also took me a sandwich. I had still been running for 3 hours, and a little hungry was of course. But in my head I would soon start Ultima Fronters, so there was no point in hanging around there. Off again.
If you hoped for a shower at the beginning, and then stops, so you had to quickly think again. As soon as the rain held up I took off my rain jacket. It still right hard to run with it on, and then I pulled on it when it started again. And although there were scattered showers, so probably followed the showers with me all the way from Skatås to Boras. More than half the time it rained, and look as tight poured it down.
But I felt fresh in the body and in the head. Rude fresh fact, and soon I was half way through and arriving in Holyhead. This was lunch, of course, and I was going to get in my good gorging myself bananburito. If I could find my dropbag so clear … I had packed a icebugrygga as dropbag, and it was quite a number of others who had the idea, it turned out. So when I looked through all the yellow, I came because I actually switched, and packed a blue. I took off and turned on the bladder with water. I was quite surprised when it just went in half a litre, so I filled just a bag of sports drink, and decided to drink more second half. I also pulled me off the soaking wet vest, and put on me a dry shirt, pinkade and pulled away.
With all the hassles on the road, so it was a much longer break than I anticipated, 12 minutes, so I were running on immediately afterwards. A little cold, I was without the vest, but I thought I would soon get up to temperature. Now that would be lättsprunget in to Boras. And so it was for sure if it had not been ösregnat in two days before. Ban profile showed that there was some height meters to manage before it came to Boras.


First 7 kilometres walked through the Woods, and while it was mostly performs, so it was not especially fast until I came out on the gravel roads again. This customer's I once again keep 5 min/km pace, and it was still quite OK in the body.
55 km into the race I passed the longest stretch I've ever run before. And considering how I felt when I finished in time, so I was almost surprised how refreshed I felt now. Sure, I went in the steepest uphill slopes, and sure enough, it was not exactly easy to launch the body afterwards. But it happened, and I had no feeling of cramp somewhere. And right as it was showed off a new control. Water and sandwich, and set off. No waiting and no idea that harden into. Continue run, now it's just a lidingö race left.
And lidingöloppet, I had the run three times in the past, so I knew that I managed. And now, I kept a pace that was far slower than my quiet long session on Saturday mornings. So it was just a small exercise left to the finish. Continue run …
Here somewhere, with rain jacket smetad around the skin, the brain begins to try to convince the body that it is time to stop. I have run enough for today, and that it is enough now. But it does not want it. It is not enough yet, it's still a half marathon to go until goal in Borås. And even though it has already been running more than 3 Gothenburg lap or two lidingö race, you're not there yet. That's when it's nice to have a good reasoning techniques. That's when you wonder the body with phrases like
"You don't have to go in this ascent. If you run this little bit, you can go a little further down the line instead. There will always a new uphill where you can go. Now, running now. "
And so it runs on. It does not have extremely painful anywhere. It's a little tough in the head, but the mood is still on top when I get to the last control. From there, and in it is only 15 kilometers to Boras. To the city park pool, a hot sauna and a massage. I took a cup of coffee, and asked if I was feeling good, I could just say that Yes, I feel that I deserve. I took with me some chocolate pieces on the road, pulled the rain jacket around his head, and put it away after a guy who was at the controls at the same time as me.
We kept pace, and it was nice to have a back that go on. So far I had been running more or less right, just ended up in the middle of the jungle once, and it was a detour on just a few hundred metres, albeit right through the thicket. But now had a back and go on, so I didn't have to check the map on the clock so much. It was just to run on.
And first 7 kilometres were simple, much the way, and only a few Parties with woods. But much uphill. I got caught up with the guy in front of me, and we ran and chatted a bit. But I ran my own pace, and he soon dropped. But all of a sudden I had no back running after, and when we came to a small village, there were suddenly no small Orange tags that follow. I looked at the clock and saw that I was completely wrong. It was just turning around, and hope that I might be able to get on track again. Unfortunately, neither did the officials was banana low, so I dropped enough one kilometre here.
And now we ran together again. It was just 7 kilometers away from the goal, but stupid as I was I ran past again. And villade me away again. Again, a small forest round, maybe not quite a kilometer, but enough to know that it is hard to run and jump over the storm-felled forest. In the end I came on the Court again, and decided to check out more after the markings than after a map. Especially as it did not the last bit next to the goal. The organizer had added a little extra round before they came in to Boras, and it was välmarkerad, so I followed it.
Soon I caught up with my friend since the last check for the third time, and now we were pretty much the same tempo. And when we came in at Borås streets, only 3 km away from the goal. Until now I had not once looked over his shoulder and was worried that it would come from behind and passed me. For it didn't matter. I ran the race to take me in the case, and neither time nor location played any role. I had run my own pace all the time.
But when there is a guy in a huge stack speed from behind and wind past when it is 2 kilometers left, then would you still take in. So I tried to hang on him, and took in on him, but he was ahead of target. But it did nothing, it was just nice to finish the race with the forces left. For I had power left. I had not enough strength left to turn and run back to the Skatås, but enough to quietly sit down and talk with the guys I run in goals with.
It turned out that we were 6.7 and 8 in goal, and the runner-up in the race had gone into the goal just 20 minutes earlier. Ettan, Patrik Steep, I hadn't had a chance against, but I am still very happy with seventh place on time 9 hours, 28 minutes and 18 seconds. Almost exactly between 9 and 10 hours as I had hoped.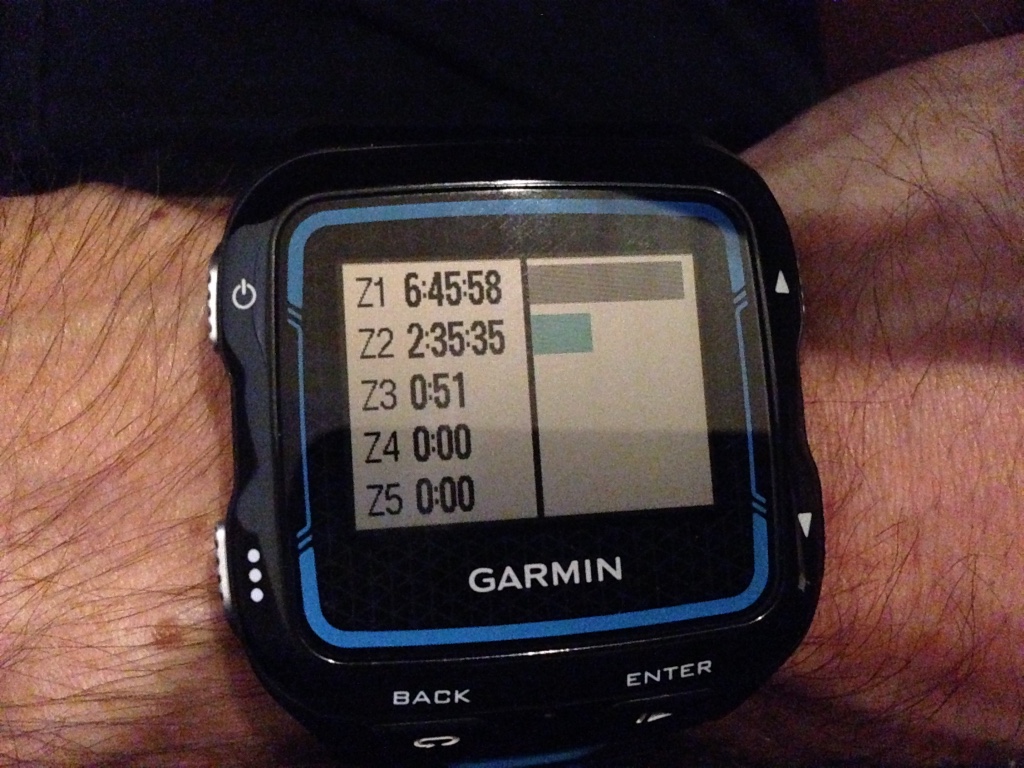 And if you look at how strenuous the race was pure heart rate wise, it was, of course, sort of like a Sunday stroll. But it is not the pulse or fitness that sets the limits of this sort of race. It is the body and muscles, and they were right worn afterward. Now I know that I can run like this far. Next time maybe I can run on a bit more, and see how fast I can run like this far.
A hot shower, a hot sauna and a massage. It was very well organized at the City Park in Borås. Bear came and picked me up, but before we stack, we took a dinner that was included on the city bath. Very good food, and I poured on with vegetables from salladsbuffen.
The body felt after all pretty good afterwards, although it was difficult to walk in stairs. Though it was not until today, the day after, as it really felt that I had been out there and run. Not an led was tough, and it was a feat that I got out of bed at all.