After much löpfokus during December, it's time to grind on ski shape. And what better than to go on a training camp in Mora!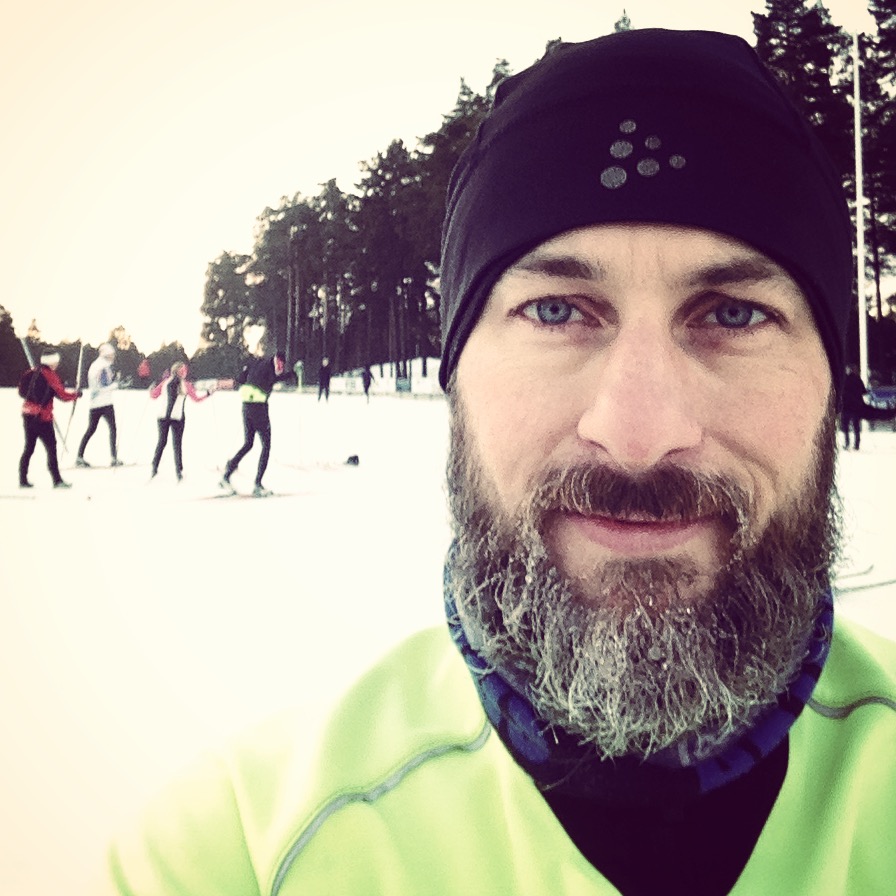 Tricia s organizes technology camps like this, technology camps/Vasaloppet camp 2-5 January 2015, together with a thread other experienced instructors show how it should be done.
I took the car up on Friday morning, and arrived at Hotel Siljan at 15:30. The idea was that I would share a room with an unknown person, but when it came time for dinner 18:00 as it had not yet turned up any. I tried not to spread myself too much anyway.
After dinner it was time for wax, theory and practice. After an hour of drilling in the noble art of Mattias Vallningens, it was time to prepare their own in. I came right then and there that I had not actually developed them since March 10 this spring, so the risk was that the adhesive would be difficult to get away. But it happened, and having fixed glide wax and kick waxing, so was at 22:30, and it was bedtime.
Saturday I started with 30 minutes easy jogging before breakfast, which was served 07:00. Because I had the night before, vallat clearly I was pretty peaceful, and because we would not pull away and skiing until 8:50, so I had time with a powernap after breakfast.
We were divided into 5 groups based on past experience. I was in Group 1, and the first pass we made with Mattias Svahn. On with your skis and head off in vasaloppsspåret up to Hemusskidstadion. Here we drillades in 2 1/2 hour of Mattias in all gears, focusing on diagonal skiing. On the way back I made a hefty vurpa at a road crossing, and pulled in the hip in the asphalt.
Back, eat lunch, and then materials review before we pulled out in the tracks again. This, too, that was a technology that, but now it was even more focus on diagonal skiing, both Hill and at platten. After three hours of rolling, so was the right hungry and tired. Was obliged to fix the waxing for tomorrow, so that there is no need to rush with it in the morning.
Dinner and an excellent lecture by Mattias on vasalopp preparations before it was time to jump in bed.
Sunday began like Saturday with a small löptur before breakfast. However, noticed that I was very stiff in the hip where I had vurpat on Saturday. It worked ok once you had heated up a bit.
At 9 o'clock it was time for a new technology that, this time with Elin Ek as an instructor. Even here, we focused initially on diagonal skiing, and the pass was completed with filming of diagonal skiing, stakning with divorced and stakning. Back at 12 to eat lunch.
After lunch, we went through the films, and checked what it was we were to think about improving. My stakning was ok, but the diagonal saw no good. I find it easier to diagonal uphill, and we filmed at platten. But it is up to the hip that apply. Print and enjoy. Far out with his leg.
After this we headed out to the track again, and it was free skiing for 2 hours before I had my scheduled personal time with Matthias. 10 minutes that made that technology, in particular the diagonal, began to sit. Now I know how it will feel when you are right, though it is incredibly hard to do right before you have practiced it properly.
Last dinner at the hotel before I had time for a massage. And it was incredible. I had a sore hip, but didn't think you could fix it with just a massage, but it went! Hurt made it of course, but the day after when it was long session, I felt not by hip at all.
Last day I started as usual with a brief jog before breakfast, before it was time for the long session. just over 3 miles, it was for me before I was satisfied. A total of 10 mile on snow scraped I together during the camp. My only snömil for that matter.
I met many nice people, and learned a great deal during these 3 days. So I can recommend to anyone who wants to take their skiing one step further. Also came home with new gloves and sticks:)