So it was time for the running highlight to me. Lidingöloppet is the race which I traditionally have been looking forward to and tried to top shape before. And now, it was time to fix that silver medal I was not especially far from to fix last year.
Preparation
But the upload could have been better. I've known me tough in the legs through the summer, and now I thought I would rest me up sharply the week before. I kolhydratladdade also some extra from Wednesday onwards with Vitargo Pure as a snack. Unfortunately, the result that I got up 4 miles between Monday and Friday. Everything was well not Vitargo, but I had not eaten especially different in other respects. Just missed the hard cardio and weight training and been swimming a little.
I also had a problem with the shoes, then my inov8 is worn out, and my icebug is delayed.  I do not want to run a cross-country skechers, but I was thinking still on it, and took both the shoes in the backpack. I even ordered a new pair of shoes on Tuesday, a pair of Montrail Rouge Racer from Amazon with express delivery that should occur on Thursday. Unfortunately did not come these until I was at my house on the way to Stockholm, so I had to take what was available.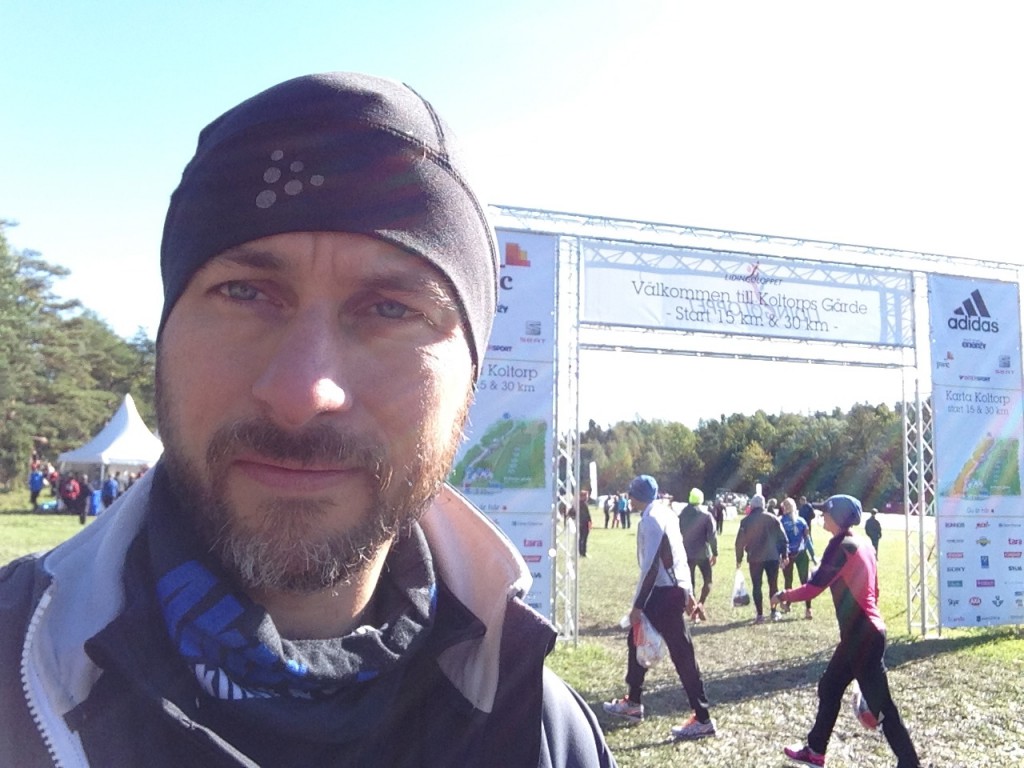 So as I stood there at Koltorps gärde so I felt not in particularly good shape. I was heavy, but my legs felt atleast not worn.
The weather would be warm, so I packed not so much clothing. Before the race, however, I got a little cold feet, and headed through the exhibition tent, I saw a nice thin long sleeve compression shirt that I bought. It was blowing quite a bit, and felt right cold.
Heating-easy jogg on just under 2 km in around 5 min/km pace. I was wearing an additional pullover, so it was no wonder that I felt warm. But it would, of course, of facing race …
Time for race
12:30 starting gun went, I stood at the front of the start Group 1 c, and ran on pretty quickly in the beginning. I had heard of it to be crowded and stop the right to early, but I noticed not by anything. That pace slowed and you couldn't run on so quickly you wanted was given, but the first kilometres at 3:52 still show that it is not as crowded as in the göteborgsvarvet.
After 2 kilometres, it started to feel warm. I pressed the decent, but step worrying quickly, and I was warm. Compression shirt slipped to around the upper body, and did that it felt difficult to breathe. Incredibly stupid to test compression on your upper body for the first time in a race like this. But I could not turn down the pace, even if the pulse has already approached the threshold heart rate. If I was not able to average around 4:20 in the first half, I would never do medal time.
So I pressed on. It may carry or rupture, and first 5 just before drinking control at ekholmsnäs went on 21:23, and I passed the official testing at ekholmsnäs after 24:40 with an average speed of 4:08min/km. Stopped for a mug sports drink before I ran on towards the first real Hill.
Up it began to feel a little better, because not thighs burned at which they made earlier in the summer, and I made sure to keep down the pace so that the pulse does not step over 163. The feeling was still the same as before-heavy, difficult breathing, warm.
But I continued to press. It may wear or break, but I can't let go of the pace now. I take the control of the control. Second 5 kilometers are easily kept telling me.
And it's easier when it's not backigt. Turn off your head and let your legs work. I passed the liquid controls at Hustegaholme after 44:10, and the first mile on 43:12 according to Garmin. The feeling remained the same, tough, but not impossible.
Continue run. Next 5 kilometers are easy. Continue to press on, keep the pace up. A mantra that all the time was taken up in the head.
I kept counting down split times in the head. You have to deal with anything. -1:12 and 1 kilometre on 4:13 gives-1:29. Must be on-2:00 pm before aborrebacken the …
Halfway I passed Fågelöudde on 1:05:46, and felt it could go the way. -1:44 pm I thought, and continued to run on. Now it's just 5 hard kilometers followed by 5 easy, and then 5 final. There is no match. Continue pressing on.
And 5 heavy km became it. Distance between Fågelöudde and Grönsta is the worst part of the entire race, and so it was even now. Forest trails and gravel trails that go up and down, turning here and there. No fluency in the races. Work on up, and try to keep good speed perform. Just up or down, nothing in between.
But I came out the other side and had managed to maintain momentum, avarage 4:31 at this distance, and 2:15 there was still within reach. 5 light now I thought,-2:13, and then run it straight into the ascent after fluid control … Now burn it a lot in the legs, and it begins to be felt in the calf muscles. It is now one must start paying for I chose inov8 with minimal cushioning and. ..
I could still press until Aborrbacken, and even crunch of a few seconds towards the goal. Sensations in your calves,-2:18 pm and time to run up.
I pulled down on the step length, but could not the first bit of abborbacken as I have done in the past year. Quickly failed, and after 100 metres when the next heavy incline began, I was 10-20 metres, before I pushed on again. I managed to keep kilomtertiden up the Hill to 4:59, and now I knew that it would be okay. I could do it.
That's when the cramps came. Your calves are locked in the same was plainly by highest point. I had to sneak out to not lock them up completely. It was the worst performing, ok at ayesha_face, and nice up where you can stretch out the calf a little step. Keep, keep, just 3 km left. Every step seemed like a long shot. Like being out on really thin ice, and it was straight up at any time. High enough speed to clear the Medal, but not so high that your calves locks up completely.
It's a little bit frustrating not being able to run on as fast as you can, but when I passed the advance warning at 2:11:44 so I knew I had a long way to go, and now it was just to let the legs slip on. If they krampade now so I'd still do it.
And it was a wonderful feeling to Sprint over upploppsrakan and see the target up ahead. And to receive the silver medal immediately after the finish was quite indescribable.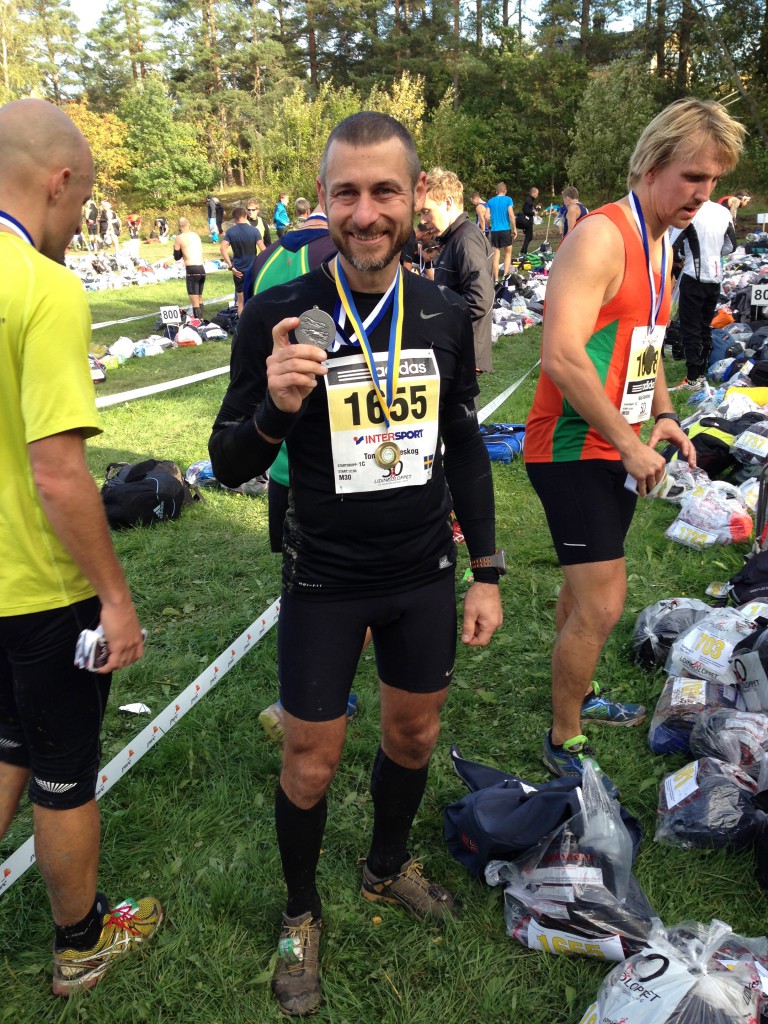 2:12:44 became the official time, and ended up being the official position 417.
Here is a link to the official result:
http://www.lidingoloppet.se/sv/ResultatLL/#.VCpP595VgR4
And here's a link to the race on Garmin Connect:
http://connect.garmin.com/modern/activity/601485124
After the race, I had received an invitation to the VIP room for a Swedish classics, where I met Michael T and got a t-shirt, Medal and a little bubbly. It's always nice to meet and talk with people who understand what you are doing, and what kind of wear it is getting there.
Tired, worn out and happy showered me and took me home to Gothenburg with CJ and Karro in their car. I did not become human again until Sunday night when I got in me enough salt and food. And your calves are still my worst enemies …