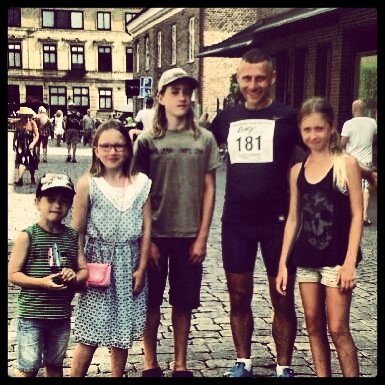 My second mile race in 40 minutes! Falkenberg's city race in 30-degree heat and Thunder in the air. Here is a link to the race on garmin connect: http://connect.garmin.com/activity/549856670
For the first time, it was the whole family and watch as I ran, and it was incredibly inspiring! At the same time I knew that we had decided that we would go out and eat at a restaurant in Falkenberg after the race, so it was best not to suffer the same running stomach that I got last year:)
This year, however, I had the wrist unit to help. I knew that I just had to keep me under the threshold heart rate during the first half, and just over in the second half it would be quiet. Then the time and location it it becomes.
The first kilometre went a bit too fast, 3:32, and I was pretty quick up in 160 of the pulse. I am struck by something on the tempo, and maintained the buzz around 160.  2nd and 3rd km at 3:46 pm and 3:40 and then remaining around 4 min/km. 500 m from the goal stood and greeted family, and from here and in, I pulled on a small spurt.
The feeling afterward was really good, and I recovered quickly. A quick chat with race 2: (a) in the locker room, then rushed me to the family dinner.
The upload before the race has not been optimal, I have felt rubbery in the legs after vätternrundan. It has as well been no power there, it felt like. Sure, I've been able to work out at pretty good, but it has taken 10-30 minutes before I felt that I have been able to run on. Km times have surely been ok, so that's the most sense is missing. That light feeling, when you feel you can run at the speed at any time.
Now I have been quite hard to get your heart rate up, both on entry passes and bike passes, and it has felt as if my lactate threshold has been 10 strokes under my threshold measured in the last month. But I still put people on 5 km on the course on Wednesday, and since then I've rested. If you count 8 hours a day for two days in the water park at the Skara sommarland amusement park as the rest …