So it was time. After running on to a training program customized for triathlon (-swimming) from Aktivitus so it was time to test on triathlon. Tjörn triathlon 11.3 seemed like a moderately good possibilities. The distance was no stranger, and I have run a number of brick that was harder during the summer, again without swimming.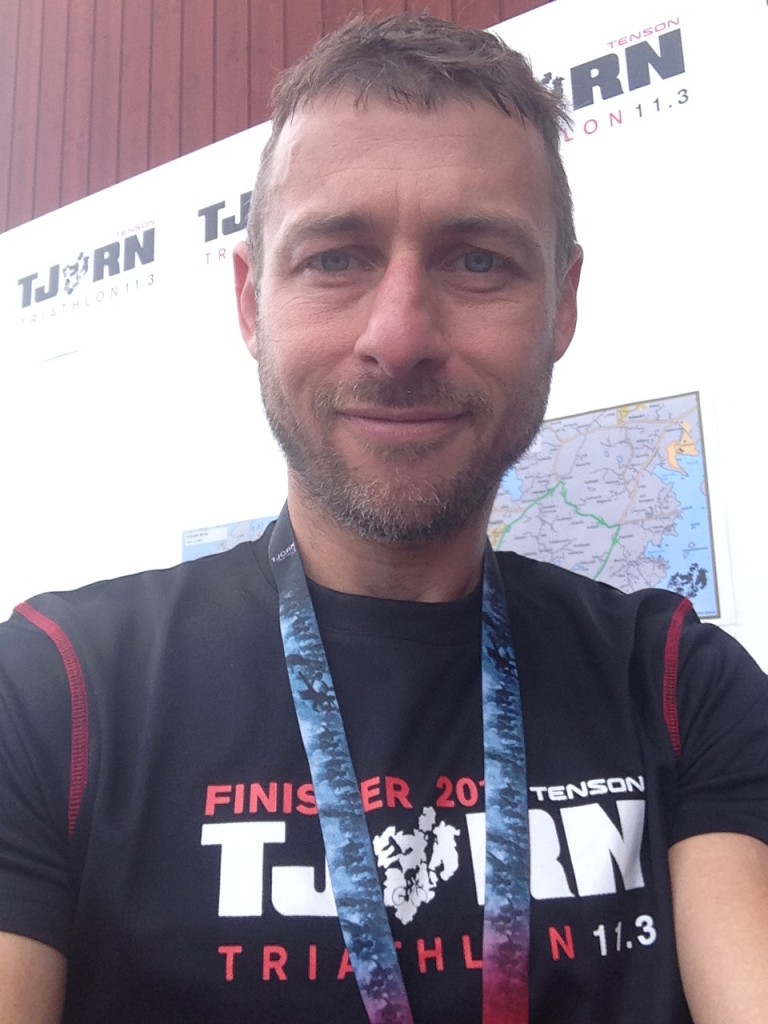 Förberdelserna pure body was decent, then Wednesday was quite heavy, and the 4 training session I did at that time was still sitting in the body even on Friday, but once I got started, so it felt good in the body.
I had packed complete everything during Friday evening, and after a havregrynsgrötfrukost I sat down in the car at 5:45 and drove to Skärhamn on tjörn. CJ and Carro met up at Exchange area with my support ticket, bag and tidtagningschip, and I put the prepared stuff. I added some extra clothes then it seemed like it might be a little chilly during the day, especially on the bike. Then I packed down wetsuit, plugs and goggles in case we had to, and passed away in joint procession to the start.
Ombytt and completed with wet suit, only to wait on startup that went 9:08 exercise class. Men's/ladies/masters starters went before, and it seemed to go pretty tidily. These groups were also not particularly big, because when our group would start the entire beach was filled to the brim by men and women in purple swim caps. When started, it was a pure chaos. Arms, legs and bodies everywhere. I could not get into the crawl at all, so I had to take it easy and let go past those who had the most urgent. At first turnaround after a few hundred metres the field began to get a little more spread out, and I was able to get into the crawl mode.
It was raining, but it did not so much when it was 17.1 degrees Celsius in the water. Really nice after a while, and the second half was the crawl all the way in force. I entered well in technology, and could switch to cycling after 45 minutes on the official timekeeping
the fluctuations are not my strong suit because I haven't practiced on it very much, or nothing actually, so it took her little time. 5 minutes before I was up on the bike. Got me new socks, and pulled on me softshelljackan as I cycled in during the winter, and even drove the vasaloppet in.
After just a few minutes on the bike, I felt that it was a really good choice. It rained and blew the whole first lap around Tjörn and it would have been really cold but. But now, I felt strong. Could lie and section of 30 km/h in the headwind, and up to 40 km/h in the downwind leg. I didn't have so much to do, so I counted how many I passed, and came up in 149 before it was time to switch. Had sensations in right back when I went on a bit too heavy in some steep sections, so I took it a bit easier up during the last lap. But 2:39 was a lot better than what I had expected on a bike part. Never snittat as fast as before, and it was not very good weather conditions. Pace sticks I put on last Wednesday was a really good investment!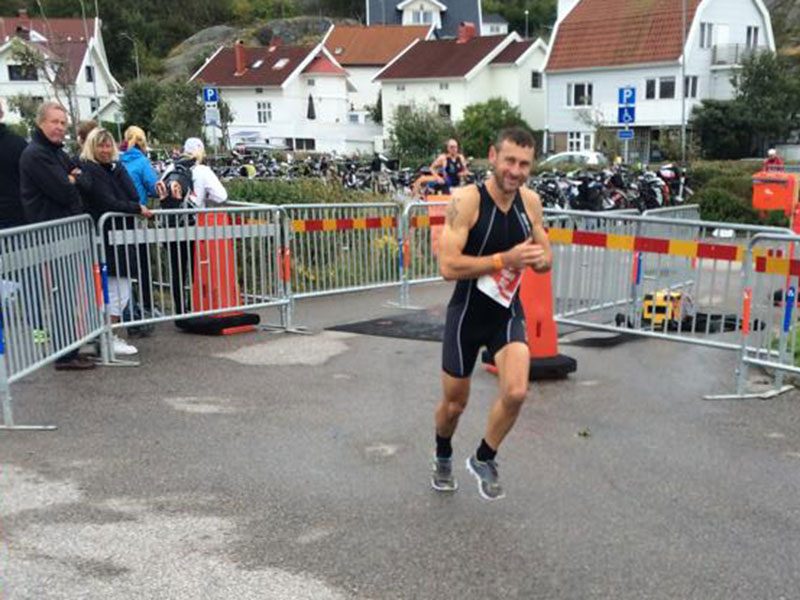 Time for a switch to running. Here too, it was especially smoothly, it took a full minute to lump the shoes, and one to bring down the energibars in trisuiten. But I was dry on your feet, and it felt good in my legs. The first 3 km went in a little over 4 min/km pace. Though I was damn pissenödig… So after the first pass at the target ran behind a shed and kag managed to pull up snorren through the leg at trisuiten and pee. In an eternity it felt like, but 3 minutes in reality when I checked the clock.
After this floated it on. The pace was slowing down against 4:30 per km, but it is a vekvämt tempo to lie in. Heart rate low at around 145, but I felt that the back legs had krampat if I had pressed for more.
The slopes were heavy, but on the straights I could float on the good, and I came in towards the goal just over 5 hours in total with a time of 1:32 on the concluding half marathon. Ok, my next fastest half marathon after göteborgsvarvet this year. Forgot to set the clock after crossing the finish line, but the official time was 5:06:24. Here is a link to the results. M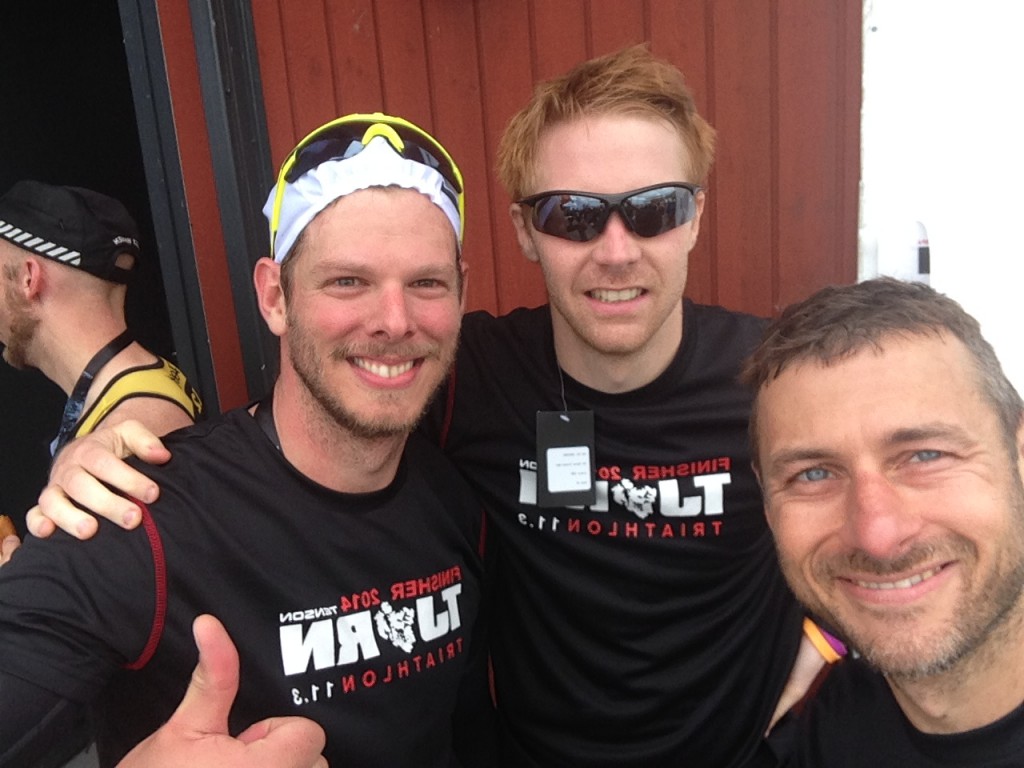 et Erik and CJ directly into the goal. They had come in 9 and 1 minute before me, and after 7 minutes additional came johan. We took a break in the queue for massage, and got a proper review of the legs.
I felt incredibly fresh immediately after the race, and it is not impossible that I do about this. I think I can cut 10 minutes of swimming, 5 minutes on the whims and 10 minutes on the bike. Then I go for 5 hours with a good margin next time. If I do not run a full ironman next time …